Wedding Car Hire
Wedding cars for hire - classic Jaguar saloons & limousines for weddings and special events:
Hertfordshire
Buckinghamshire
Berkshire
North West, West, South West, Central London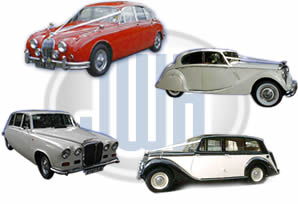 The wedding car hire business was established in 1990, family owned and run. Providing exceptionally stylish & refined transport for your wedding day or special event.
We offer peace of mind that your chosen car will be with you exactly on time for your special day.
All cars are owned by us and are part of our family, one has been with us for 28 years.
Our cars have been chosen by a list of celebrities for all manner of star-studded events, with Jaguar Cars themselves hiring us for promotional events in London:
Ray Winston
Jon Voight
Jaguar Cars
Shell Oil UK
Les Dennis

Rosamund Pyke
Andy Davis
Kelly Hoppen
Amanda Wakely
Godiva & Joy

The Jaguars have appeared on TV and in numerous commercials, with the Red Mk II co-starring with Ray Winston in the TV gangster movie tribute 'Big Shots'.